RISD Alums Contribute to Beasts of the Southern Wild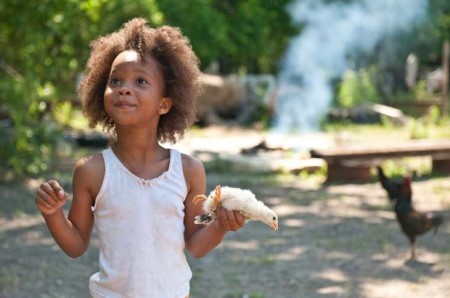 With its runaway successes at Sundance and Cannes, the atmospheric, deeply allegorical movie Beasts of the Southern Wild has taken the film world by storm. The New York Times hailed the low-budget work as "a blast of sheer, improbable joy." Beasts, which won the top Grand Jury Prize at Sundance and the Camera D'Or prize at Cannes, is already generating early Oscar buzz – not just for its narrative impact but for its raw visual power as well.
The coming-of-age tale, which opened in June in limited release, is the vision of first-time director Benh Zeitlin and his New Orleans-based filmmaking collective, Court 13. Among Zeitlin's tight-knit group of collaborators, four RISD alumni played key roles in bringing the world of Beasts to life: set decorator Annie Evelyn 99 FD/MFA 07, construction coordinator Sophie Kosofsky 06 FD, all-around artistic contributor Jonathan Mosca 07 PR and Eliza Zeitlin 07 SC, the director's sister and frequent film partner, whose aesthetic vision colors virtually every frame of the movie. With such a heavy RISD influence, it's no wonder that Film Comment described the making of Beasts as "a massive community art project."
Set in a fictional Louisiana bayou dubbed "the Bathtub," the film owes much of its power to its cast of untrained local actors as well as its entirely handcrafted, junkyard-inspired aesthetic. Evelyn played a key role in both, working as an assistant casting director in addition to handling set decoration.
"Everything about it was just an amazing experience," she says of the three years she spent in New Orleans, teaching upholstery to low-income teens and adults while working on the movie. Despite all the international accolades and Oscar possibilities, she says the makers of Beasts embarked on the project with an extremely humble aim: to make "a small indie film for friends."
"There were about 90 of us working on that film, but it felt like family from beginning to end," Evelyn says. "I was lucky enough to be part of the casting process, which was incredible. We cast all local non-actors, just putting up signs in schools and in surrounding towns. It was completely open to anybody who wanted to come in and tell us about themselves for five or 10 minutes. And through that process we met amazing people, some of whom are still great friends."
Labor of Love
As set decorator, Evelyn worked on a team that designed and built sets and furnishings for each scene – from scratch and using only materials from the immediate environment. For one scene set inside a schoolhouse, she spent weeks building a series of sliding shelves filled with specimens floating in old glass bottles. She also retrofitted reclaimed pieces of furniture for the film.
"A lot of the process of creating the world of the film was going to abandoned houses, yard sales and big empty lots finding old garbage and materials that people basically didn't want, and then making stuff out of it," Evelyn says.
As a result, the sets became visual metaphors for the film's deeper post-Katrina themes: about devastating forces of nature, unimaginable human loss and the sheer will to survive and rebuild. "We were building our imaginary world out of the wreckage of the real world that exists here," says Evelyn. "It's hard to see sometimes because some scenes go by so fast, but in Benh's movie – even with the pieces you see that are there for only a few seconds – if it's there it means someone has really labored over it."
With a labor of love on that scale, Evelyn says, her RISD training was critical. "Among alums the RISD work ethic is something that's well known," she says. "We all recognize it in each other…. For this film, we worked literally 16-hour days – every day – in these insane conditions, and we all kept working like that until it was done."
Beyond the world of Beasts, Evelyn is best known for work that merges furniture, technology and performance. Many of her pieces incorporate robotics and lean toward the absurd: In 2007 she co-founded the TableFights Competition, which brings together furniture makers, designers and engineers from around the country to build automated, remote-controlled tables designed with the sole purpose of battling against each other. The annual event has been held at the International Contemporary Furniture Fair and was covered in a recent Wired article.
"In my first year at RISD the Furniture Design department didn't exist, so I went into Industrial Design. But I was miserable," Evelyn says. "So many of the questions in ID were about ergonomics and design in the abstract sense, whereas furniture was much more about: 'What are you trying to express?' And that's where I wanted to be. I've tried not to make fine art furniture – I've really tried! But that's what I love to do more than anything."
Article originally posted by RISD.