"Question Bridge," by CCA Alumni and Faculty, Debuts at the Sundance Film Festival's New Frontier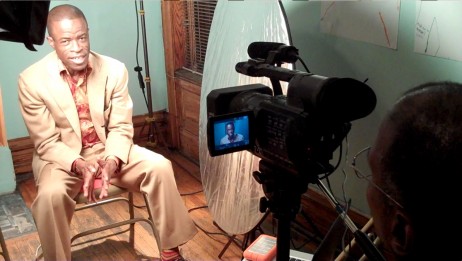 Filming Question Bridge: Black Males
On any given day we encounter dozens, even hundreds, of people who are different from us: a different race, a different gender, a different class, a different age . . . We intellectually understand that our own identity is multifaceted, yet sometimes we cannot help grouping people into stereotypes, even within what others would consider a diverse demographic.
A team of four artists—CCA Photography faculty Chris Johnson, two CCA alumni, Hank Willis Thomas (MFA and MA Visual Criticism 2004) and Bayeté Ross Smith (MFA 2004), and Kamal Sinclair—have begun a far-reaching conversation on this topic, engaging a diverse group of African American males in a question-and-answer exchange. Their innovative trans-media project is entitled Question Bridge: Black Males, and it seeks to represent and redefine black male identity in America.
The project has grown tremendously since its original incarnation in the mid-1990s, and it will reach a vast viewership via film festivals, museums, and the Internet, inspiring audiences to rethink how they understand not only black men, but also our society as a whole, and themselves.
The project was selected for the Sundance Institute's inaugural New Frontier Story Lab and will be debuting at the Sundance Film Festival's 6th annual New Frontier on January 19, 2012. It will subsequently be exhibited as a video installation at the Oakland Museum of California (where it is on view now through July 8), the Brooklyn Museum, Chastain Arts Center in Atlanta, and the Utah Museum of Contemporary Art.
Community Engagement "On Fire"
This ambitious project began almost two decades ago, when Chris Johnson partnered with Suzanne Lacy, a renowned performance artist and at that time CCA's dean of fine arts. The two began reaching out to public high schools in Oakland for an undertaking they titled The Roof Is on Fire, in which hundreds of students participated in unscripted, unedited conversations about family, sex, drugs, music, their neighborhoods, and the future. "Through our work with teachers and students, we realized the importance of identity for inner-city youths, and the importance of their voices," says Johnson. The one-hour documentary aired in 1994 on the Bay Area's local NBC affiliate, and it was discussed in the national media.
"That experience introduced me to the power of creative engagement in dealing with social issues," says Johnson. Two years later he was commissioned to do a multimedia project on race at the Museum of Photographic Arts in San Diego. His idea was about the divisions that social class, economic opportunity, and cultural values have created within the greater community of African Americans. Question Bridge (1996), an hour-long installation at the museum and the nearby Malcolm X Library, used questions as a way to establish connections among people. The seemingly simple idea of having individuals from the same racial group—but diverse backgrounds—ask one another questions turned out to be very powerful. It enabled the subjects to speak honestly and examine the familiar concept of race from unfamiliar standpoints.
Inspiration from a VHS

Fast forward 11 years, when Hank Willis Thomas, recent CCA graduate and former student of Johnson, stumbled upon the Question Bridge tapes. The project resonated strongly with him, and sparked an idea. "Around the same time, a lot of my own work had been about deconstructing black male identity; I was struggling with the narrow perception of what it meant to be black and a man," says Willis Thomas. "I was invited to apply for a new-media fellowship for the Tribeca Film Institute, and I kept thinking of Question Bridge as offering an amazing opportunity." He and Johnson applied together and won the fellowship.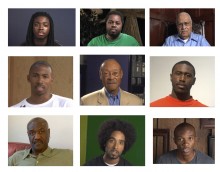 A Privileged Dialogue
In Question Bridge: Black Males , viewers see a black man, on camera, asking a question that he feels to be of significance to some unknown, other black man. Cut to another black man, who offers an answer. The second person is different somehow—in a different city, or of a different socioeconomic class, for instance—and has been selected by the filmmakers for his ability to speak to the first person's question. These dialogues are edited together into a video of up to five channels; in the installation, the videos are simultaneously displayed on five monitors. "This is a major part of how Question Bridge: Black Males is presented to, and experienced by, the viewer," says Ross Smith. "Their experience is of being in the presence of a group of black men having a conversation. The five channels are sequenced so that different faces appear and participate in the conversation as if they are interacting in real time."
In all, the artists recorded 160 men from across the country and amassed more than 1,500 clips of thought-provoking questions and answers. There is also an accompanying interactive website, which the artists regard as the primary distribution channel for Question Bridge: Black Males. The website also features an Identity Map, a navigable graphic illustration of identity "tags" that participants create for themselves.
Ross Smith and Sinclair
Bayeté Ross Smith is a multimedia artist, photographer, and arts educator, and he collaborated on every aspect of the project. He is Willis Thomas's longtime friend, artistic colleague, and former CCA classmate, as well as Johnson's former student. The fourth partner, Kamal Sinclair, is an artist, director, and producer; she is adept at balancing the creation of art and the business of art and was instrumental in the development of Question Bridge: Black Males as an educational curriculum, with community "bridge" events and a dynamic online learning community that the artists hope will reach audiences far beyond museums and film festivals. The website will feature at least 600 participant-generated exchanges, and it also offers the Question Bridge curriculum, at no cost, in a high school and university framework. Johnson stresses that they are working on adapting the curriculum for middle school students as well. "Middle school is where we lose a lot of these African American boys. They are really impacted by that transition."
Challenging Notions of Identity
Ross Smith reports that the very vastness of the project's potential has been one of its greatest challenges. "The thing keeps growing! There is always a new opportunity to do something more profound with this content. It has been a major challenge figuring out how to incorporate all the possibilities in a way that is effective and meaningful. We want it to create a familiarity among black males—to overcome notions of otherness, fear, and disconnection. We want to break down the barriers that we place between each other—not just black males, but everyone—through these universal questions. It is so important to us that we can take this project out of the gallery and make it relevant to a mass community. Other people are always struggling with a lot of the same questions you are."
"Black men in America have become imprisoned, literally, by the conceptual making of their identity," says Willis Thomas. "The idea that all black males have the same values, look alike, care about the same things, interact, and navigate the world the same way is really undermining our individuality, our power, and our diversity. I hope this project serves to abolish monolithic notions of black male identity."
"We want people to come away with a completely different understanding of how diverse the attitudes and values of black men are," agrees Johnson. "We want to make it impossible to come in with one notion and leave with that same notion. This project has really been embraced by young black men who generally feel alienated from, or misunderstood by, older generations. It is a vehicle for expressing."
A Dynamic Team
Another significant strength of the project lies in its collaborators' diverse perspectives. "We don't agree among ourselves on what black male identity means," says Willis Thomas. "It is so crucial to keep that debate going." Question Bridge: Black Males features multiple voices (including that of a mixed-race woman, Sinclair). "In filming, usually the dynamics would emerge right away. There were different dynamics with different generations, and that complexity played into the richness of the ideas at hand. The diverse backgrounds of the three of us helped make the participants comfortable."
"Hank is a great connector," says Johnson. "He really had an intuition for which questions to ask certain people. Every black man we encountered immediately understood why this was so important—why it was necessary for him to sit in front of a camera and voice existential questions about why he feels different. Pretty much every last one had profound things to say. We were sitting there realizing what an incredible resource of wisdom and passionate intelligence we'd tapped into and actually brought to the surface."
Related
Visit the Question Bridge: Black Males project website
Watch a video of Question Bridge: Black Males project overview and other related videos on Vimeo
Learn more about the Sundance Institute New Frontier
Read the [Huffington Post] article featuring interviews with the artists (http://www.huffingtonpost.com/2012/01/13/question-bridge-shows-bla_n_120…)
Originally posted on Wednesday, January 18, 2012 by Allison Byershttps://www.cca.edu/news/2012/01/18/question-bridge-cca-alumni-and-faculty-debuts-sundance-film-festival-s-new-frontier-