Arnold Kemp | Artist, Curator, and Poet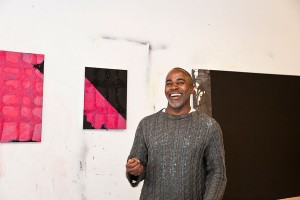 PNCA's MFA in Visual Studies Chair Arnold J. Kemp Awarded Guggenheim Fellowship
Just before he was scheduled to do a poetry reading at SFMOMA last year in response to a work in the collection as part of the Pop-Up Poets Series for the exhibition The Steins Collect, Arnold Kemp discovered that Mary Heilmann's Fire and Ice Remix had been taken off view.
"I asked the Museum to project an image of the painting on a blank wall," Kemp says. He printed copies of the painting which he gave to the audience. Some were in color. Some in black and white. He told the audience that before he would read, they had to take a minute to try to transform the projection into the actual painting. "I turned away and was silent," Kemp says. "For 40 seconds I didn't say a thing. And then I turned around and the projection was still the projection and not the painting. And I said to them, 'Your faith in art is not strong enough.'"
Arnold Kemp's faith in art has sustained him through a 20-year career that has incorporated studio and curatorial practice, poetry practice, and an academic career. Kemp has regularly had solo exhibitions in San Francisco and New York while serving as the assistant curator for visual art at Yerba Buena Center for the Arts from 1993-2003, while completing his MFA at Stanford University, and while teaching, currently as Chair of PNCA's MFA program in Visual Studies. His work is in the collections of The Studio Museum in Harlem and the Metropolitan Museum of Art.
This week it was announced that Kemp was awarded a Fellowship in Fine Arts from the John Simon Guggenheim Memorial Foundation.
Kemp has previously received a Pollock Krasner Foundation Grant and Joan Mitchell Foundation Fellowship, a Cite International Des Arts Paris Residency and a Pen Writers Grant. The Guggenheim Fellowship will allow Kemp to travel to Berlin to do research in the Adrian Piper Research Archive with the plan to create a performative lecture on Piper's work and his own.
"I had long been doing drawings with a relationship to minimalism. They were drawings of African masks and sculptures. I was tracing a line from Picasso and Matisse straight through to Judd. And I thought people would think I was crazy," Kemp says. "Then I read, 'The Logic of Modernism' by Adrian Piper. She made me feel like I wasn't crazy."
Not crazy, no, but when he was in his combined BA/BFA program at Tufts University and the School of the Museum of Fine Arts, Boston, he was told by a professor that he was, "too smart to be an artist." Regardless, he graduated Magna cum Laude and became an artist.
"My father didn't want me to be an artist," Kemp says. "The only well-known artist we knew had not been recognized by the art world until he was 90. My father thought I wouldn't be recognized until I was 90."
"I'm a first generation American," Kemp says. "My lineage is Caribbean. My mother is of Panamanian descent and my father is from the Bahamas. She came to the University of Illinois at Urbana-Champaign, and my father attended Morehouse, the Black Harvard. My whole family speaks multiple languages and believes in reading."
Thelma Golden included Kemp in the Freestyle exhibition at The Studio Museum in Harlem in 2001. "The exhibition framed a whole generation of post-Glenn Ligon, post-Lorna Simpson African American artists who came of age in the multicultural generation of the 80s," Kemp says. "She framed it as 'Post Black,' and we were questioning what the label meant.
"A number of us wanted to push against this idea. It's not exactly about race, but it's about what it means to be a racialized Black artist. To push against the roles or stereotypes of what people might normally think about when they think about prominent Black Americans. There is the Black athlete. There's Hollywood, theater, and dance. But the Black artist or Black painter is not in the public consciousness. The Black painter is something I'm really interested in. Sometimes I feel (and many from Freestyle feel this way), I felt framed in a funny way as a Black artist. David Hammond calls 'Black artist' an oxymoron, you're really behind the eight ball."
"I keep trying to be free to make work. I want to determine its frames. My work is about my being free."